CFB California - Gallery 1
CFB California - Gallery 2
CFB California - Gallery 3
CFB California - Gallery 4
Start...
There was no doubt about this event, it was going to be off the hook. It doesn't matter that Woodward West was three hours from the closest major airport that people could fly into at a reasonable rate (Los Angeles) or that even with Mapquest, finding the West Coast version of Disney for bike riders was still nearly impossible to find on the first try. This event was going to be the only North American X-Games qualifying event and nine spots were going to be locked down at this one contest. All the best pros in the world who wanted a spot at this years X-Games would have to make an appearance at least if they wanted to get in.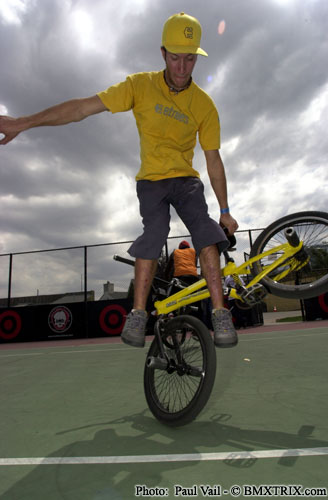 Simon O'Brien with a kickflip backwards halfpacker.
He can very rarely hit full barspin versions of this,
but only was showing half kickflips at this event.
Well, wait, that's not exactly correct. You see, there was two other spots open for the X-Games. One was going to be determined by a qualifying event in Europe at a contest called NASS - National Adventure Sports. That contest was happening the exact same weekend as the CFB event in California, so instead of any of the European riders making the long trip to California they all seemed to have decided that staying in Europe was the better choice. Notable absences included Alex Jumelin and Viki Gomez, both of whom have not yet qualified for this years games. In fact, the entire KGB team of Martti Kuoppa, Viki, and Jeff DeRoche were no shows for this event. Oh, and the other spot? It is the wild card, which has been tenatively listed as going to the highest placing rider at the CFB that hasn't already qualified... though this has not yet been confirmed by Hoffman Bikes and may end up going to one of the European riders who didn't have as many opportunities to come out to the USA for more events this year.
So, back to off the hook... The list was the longest I have seen at an event in years, and included 34 pros who made an appearance to throw down their hardest tricks and score a spot at the Games. The prize money wasn't that great, so about the only reason to show up had to be for the open spots for most riders. And the list was extensive.
Well, unless you were there to see the amateur riders. Only eight guys showed up for the expert/am class in Woodward. I have no doubts that this is mainly due to the very remote location of Woodward and the fact that the amateur class was held on a Friday which just doesn't work for younger riders who need their parents with them to get to the events.
The top three ams included Justin Miller who has been pressing hard against the top two guys, and really is in position to score a win if he hits all his tricks in a final run. How hard? Kickflip hitchhiker in his run was pulled clean in three tries. But, it wasn't with enough other stuff to land any higher than the three spot. Number two went to BMXTRIX rider Tejay Perry who now has two wins and two second place finishes for the year. TJ hit a near flawless run on his way to second which included some pedal steamroller action comboed into multiple tomahawk and hitchhiker variations. TJ was so on that several riders including Dave Petrin were sure he got first place. But Dave was wrong - it was him, doing it for FlatlandFuel that was walking home with the win, a year end belt, and a Fender guitar. Yeah, you read that right, the top guys were getting a brand new Fender instead of bike parts they would never use or a new frame they would probably sell. Dave was psyched, but when the guy who wins is wondering about the results... well, judging still needs to be addressed I guess. It must be said that Dave has some hard tricks, but isn't usually on, and only managed to hit a couple of tricks in his run, which included a blender (good work Dave!).
The riding area...
Now, if you have read about Hoffman/HSA/CFB/BS contests before you may already know that the flatland area at most events is what riders would call 'less than perfect'. That is, they are usually slippery, slanted, rocky, small, dusty... you name it, something is usually majorly wrong with the surface. So, after some jokes by the Hoffman crew that the event was going to happen in the flat bottom of the vert ramp, everyone was stoked to be riding on a tennis court. The net was gone, the ground was actually a little more firm than your typical tennis courts which meant no pedal gouges. Also, riders that wanted to had access to an additional two tennis courts a couple hundred feet away so they could keep on practicing while the contest was going down. Bomb diggity. :o)

Grippy, smooth, flat... are you sure this is a HSA flatland contest? Props!
Woodward West...
Let's be perfectly clear, this camp is in the middle of nowhere. If you have ever been to Woodward Camp in Pennsylvania, you would think that it is in the middle of nowhere, but the West Coast version is even more remote than the East Coast camp. After leaving Los Angeles International Airport you will drive for three hours North into the desert where if you stop in Mojave you will find the temperature hovering around 105 degrees on a Summer day. Another twenty minutes down the road and you are into the hills and the temperature drops about 15 degrees and instead of boring plains you are looking at beautiful rolling hills with gorgeous green farms and grazing land beyond. The temperature most days is hot, but not overwhelming, especially to those riders used to high humidity combined with high temperatures. As a bonus, after a couple of months with no real rainfall it actually was cloudy Friday and Saturday and a couple of very light sprinkles really didn't get the ground wet, but helped to keep the temperature somewhere in the 80's instead of in the 90's. Perfect.
Pro time...
Onward to pro where perhaps the three biggest appearances at this event were a couple of California riders who have been no shows at contests for years, but have been keeping up on their skills and some guy who likes to make videos, but hasn't played the contest game for about ten years. These guys were Jesse Puente, Pete Brandt, and Chad Johnston respectively. We will talk about Jesse and Chad in a second and will just say that Pete was riding hard all weekend long. His stuff is incredibly powerful and he seemed very determined, and often pissed off, during practice. The stuff he does is straight up hard and has a lot of original flow to it, but it wasn't to be at this event when Pete started tap dancing in the finals and just couldn't hit the tricks he wanted to. He wasn't upset, just bummed that he missed his tricks. Next year maybe?
Now, of the 34 guys there, two of them were already qualified for this years X-Games and odds were good that they would make the qualifiers. This meant that anyone who qualified for the finals were guaranteed a spot at the X-Games. So, instead of the qualifiers being a time to be conservatively solid it was a time to let it all hang out and go for it. This was good for some guys who have bomb tricks and are usually on, but meant that the guys who just have really solid hard tricks probably would not make the cut.
Once again judging was a little bit off. Guys that had a bunch of touches but had a good reputation and harder tricks in their bag, but didn't bust them out, seemed to do a little bit better than guys who actually put it together for the 120 seconds they had to qualify. One shot, two minutes, it was stressing some of the guys out for sure, but other guys were not to be stopped. The Japanese contingent of four riders was likely to put at least a couple of the riders into the finals and on to the X-Games. York was a favorite to qualify and didn't disappoint with a solid run that qualified him in seventh. A few spots back Hiro got the number ten spot with some incredibly difficult tricks that look like a copy of some of Martti's stuff, but were independently originated in Japan. Hiro then steps things up with a lot of flow on both the front and rear wheel.
| | | |
| --- | --- | --- |
| No, Dave Petrin can NOT pull this yet. But this 360 body varial barhop from steam roller is still fun to watch him try. | James McGraw was one who got hit with tough judging after a one touch run and a twentieth place finish. Blender skills. | Terry Adams has to be going into the X-Games as one of the favorites. He has been progressing so much this year. |
Matt Wilhelm had a number of touches but still made the cut for the finals and he was joined by the other guy who already is qualified for this years X-Games, Simon O'Brien. Matt has been pushing hard this year getting second at the Worlds and kicking ass at the Red Bull Circle Of Balance event. Simon though... well, he must be doing some of the singularly most incredible tricks out right now.
Terry Adams who got the last spot last year made the cut along with last years top amateur rider, Manuel Prado. Travis Collier, Michael Sommer... Jesse Puente... Chad Johnston... these were the last four guys going to the finals and had a night to sleep on things. Well, apparently some guys actually got some sleep and others haven't learned how important a good night sleep is before a major event. Maybe they were just off, but some guys didn't seem nearly as on the day of finals as they were the day before.
Saturday morning rolled in and an hour before the finals were going to begin only about half of the riders had showed up to practice. Probably thirty minutes prior to the event all ten guys were out warming up, but it didn't seem like enough time for all of the guys to get up to full speed.
The ten spot went to Hiro who was once again trying about the most difficult tricks imaginable. The Japanese riders never seem to dial in tricks, but they make up for it by doing the most impossible stuff. Front wheel to rear wheel transfers and cow maneuvers thrown from the pedals are a regular part of the arsenal. In number eight was Terry Adams who couldn't duplicate his qualifying first place run in the finals. Nevertheless he was going for steamrollers jumped over the bars to the pedals and then jumped back over the bars into a steamroller. The rear wheel is not supposed to ever touch the ground, and when he nails it he has been known to throw a 180 barspin to hitchhiker in when he jumps back over the bars. That is, he is standing on the pedals with the rear wheel off the ground rolling at a decent pace then jumps backwards over the bars... before landing on the front pegs he whips the bars 180 degrees, his feet hit the pegs and the bike is down in a hitchhiker right away. Yeah, Terry is good. To look at progression check out the Terry Adams video from 1999 in the videos section of BMXTRIX.
Tied with Terry was Travis Collier who just likes rolling on one wheel in some impossible position and then jumping and landing in a halfpacker. Now, when most riders do this, they land in a halfpacker and give the tire a solid scuff and get things rolling. Travis has a different approach: He jumps, and uses whatever momentum he had and puts it into the halfpacker. He then starts rolling, however slowly, and pumps the halfpacker without scuffing to generate speed. Unfortunately, this method when it isn't dead on, puts his feet on the ground and he has to start over. Incredible to watch when he's on though.
| | | |
| --- | --- | --- |
| Trevlan Hall is from Trinidad and has come a long way in the last year. Brakeless front wheel flowage. | Akira rocks the back wheel of a bike like no other rider. He's about to do a stubble duck out of this believe it or not. | Michael Sommer switched things up so consitently it was scary. He rode all weekend and always seemed to have fun. |
Told you we would talk about Chad again and seventh is where he landed. Chad is a big guy who rides brakeless. Pure strength seems to be his motto as he muscles the bike through pedal hang-5 tricks and rope-a-ronis on the pedal. Sure, with brakes those tricks are very difficult. But, Chad leaves the brakes off and despite some of the tricks looking similar to Phil Dolan's stuff, Chad just looks different. He rides much more aggressively and was even willing to step up to a hang-5 standing on the rear pegs. Ten years away from events sure didn't seem to hurt him much and we will see him again in a month at the X-Games.
York maintained his consistency. Perhaps the most consistent of all the Japanese riders he finished in the six spot with a stepped up version of tricks that have been solid for him for a while. Juggler variations, along with spinning no-handed, and now one-footed, wheelchair glides. York has some newer stuff, but he saves it for when it is dialed or for the end of his run as a bonus trick. It works for him as he consistently finishes high in most events.
Michael Sommer seems like one of those guys who just likes to ride. Before the competition and after it was over he was still riding. Just smiling and having fun with it all. He has the hard tricks and links up some newer front wheel combos which he nails regularly. Hard to describe the stuff he does, but mostly it involves the front wheel. Some pedal steamroller variations are there, but it just all flows together to create long links that are hit solid over and over again.
The other guy that was mentioned earlier locked in the four spot and an invite with so much originality in his 'old' stuff that the newer tricks he was practicing are just plain ridiculous. Jesse Puente has been around for well over 15 years and seems to live by the motto 'be original'. Hands down his most standout trick in the contest is the airwalk. That would be a inward no-footed e-squeak. Now, most people think of that and imagine lifting their foot off the peg and kind of hanging it near the peg to place back on. Jesse doesn't... he flails both feet about two feet away from any part of the bike and reaches out a foot to kick the tire only when necessary. To make things worse, he will occasionally use his other foot to kick the tire the other way and change direction a few times before riding out. Jesse was also trying turbined backpackers all weekend long. Once again, Jesse style means that he was going full speed and would turbine the trick three to six times before trying to ride out - which he only managed to do once during the weekend, and not during his run. Cripes... he was also trying pedal turbined time machines where he would switch feet on the pedal as the bike was turbining. You figure it out. Respect.
Manual Prado dominated the amateur class last year and this year he proved it was no fluke. If you watch him ride he is dead on. Front wheel and rear wheel tricks thrown together without so much as a twitch from his body to keep balance. His bike rolls so smooth and his body stays so still that you would think what he is doing is easy. But, he's just got the mad skills. A few quick jugglers bunnyhopped straight into rear wheel combos and time machines on the pedals are staple tricks for him. Rear wheel combos including stick bitches on the pedals combined with a dozen other rear wheel tricks and stubble ducks all play together without the least amount of sketch from him. His style is the contrast to Jesse who always seem to be about to fall, Manuel seems like he will never fall and if you went up and pushed on him you would fall over in the attempt to knock him over. Third in qualifiers, third in finals - look for him to do well at the X-Games as well.
Well, Matt Wilhelm did it again and scored a second place finish for himself and his new bike sponsor, Fly Bikes. What's more amazing is that he managed to do it with runs that aren't nearly up to the level that he could have done. He had specific tricks that he can do that he didn't practice once all weekend until after the contest was over. More or less it was Matt's typical contest run which shows just how hard his typical tricks are. Blenders flipped to upside down pedalling mega spins, half packer switches and variations... it just goes together and he has his new stuff which we may all see at the X-Games in a month. When asked, he said that he didn't want it all played out before the X-Games, that he wanted something new to show the judges and since he was already in, it was more important to save originality for that contest, then for judges to get used to seeing it already. In this case, the judges didn't seem to care, and Matt walked home with second place prize money.
This left one guy going home to Austria with the year end title, cash, and guitar. Simon O'Brien followed up on his qualifying run with what are simply the hardest stand alone tricks out right now. When you watch him ride he makes tricks that are impossible, not only a reality, but easy looking. Kick flip halfpackers? Sure, but he does them while doing backwards halfpackers. Karl Cruisers he jumps over into backwards halfpackers. Yet, as if it isn't enough to just do the impossible, he then continues onward from there with pedal hang-5 variations out of those tricks. He works the blender straight into upside down megaspins on the pedals then he kickflips the pedals so that he jumps from one pedal to the other with the same foot. It would be hard enough to do that one try out of ten, yet he does it about nine times out of ten. Almost on demand.
| | | |
| --- | --- | --- |
| Travis Collier has a really unique style that combines more traditional tricks into crazy hard links. | Michael Sommer rode hard all weekend and was barflipping these cliffhangers consistently all weekend. | Matt Wilhelm going for a millennium after the contest was over and he was starting to work on tricks for the X-Games. |
After the show...
Most contests end immediately after they are over. That is, the contest ends and people go home. They are sick of riding, sick of the contest area, and are stressed out. But, this wasn't a flatland contest packed into a single day, it was spread over two days and the ground was really good. Pro flat was over by 2:00 in the afternoon and nobody was kicked out of the riding area, so all the guys who had bikes brought them out and did some more riding. The Japanese guys stepped things up from their contest run tricks to the stuff they are working on. Dave Petrin was trying (and not coming close) on cross handed steam rollers to 360 body varialed barhops to halfpackers. No, he's not coming that close yet, but the pictures show just how crazy it is. Jesse continued to roll around trying new stuff including time machines where he supports his entire body with his hands and floats the trick in circles. Then it was off to dinner and a little karaoke. No matter what you do, don't go up against Akira in a rapping challenge unless you've got skills. Akira would hear a solid beat and would freestyle rap, in Japanense, with such flow that the words which we didn't understand still sounded good and had the other Japanese guys laughing off their seats. James convinced me to do a round of Shout At The Devil, which he knew less words to than I did so I somehow got stuck doing all the vocals. How'd that happen James? Ah well, it was a good time and around midnight I corralled Tejay into the car and we headed back to Los Angeles so we would be close for our AM flight back to the East Coast.
Got home and today was 95 degrees with crazy high humidity - I'm ready to go back, and will be back in a month for the X-Games where the press credentials just came through today. Anyone looking to higher a web developer in Southern California?
~P~