UPDATE: August 18, 2003
X-Games Photo Galleries Up
UPDATES: STARTING AUGUST 14, 2003



No, just because it's 3,000 miles away from home, does not mean that BMXTRIX isn't going to make the flight out West to lay down the info on what is going on at the big song and dance that ESPN likes to call the X-Games. Coverage this year will be cut short for personal reasons, but full flatland coverage with photos will be up. The play by play is here!
UPDATE: August 13, 2003
YORK JAM 2003 COVERAGE
| | |
| --- | --- |
| | The flatland event of the year... and you missed it? Come on! There is not much that will be said, but the photos from the single best flatland jam in the world are up for you to take a look at with a few words about what went down. Next year is the 20th anniversary jam though - don't miss it! |
UPDATE: July 23, 2003
HORIZONS - STAR PIT TRAILER
No, this isn't old stuff - this is the new stuff. Less than one month old and the pieces that you see will be featured in Horizons. Yes, York Jam is just a few days away and the video will premiere there with copies available on DVD. Need York Jam Info? CLICK HERE!
Want the video? Get it right here, or click the title above.
(VIDEO: 6MB, 2 Minutes Long, Right Click "Save Target As" to save!)
This was the first and only event that was going to be going on in the United States and at stake were 9... or is that ten... spots to next months X-Games.

Sure, the contest was in the middle of nowhere, but that middle of nowhere had a name: Woodward West. Yeah, riders showed up from all over the world for a good shot at qualifying to the big show and it was going to be crazy.

Crazy doesn't begin to describe what went down so there is a little more with pictures and lots to read about. Check it all out!
UPDATE: July 11, 2003


The York Jam is just a few weeks away and BMXTRIX is going to debut out first full length video which will be available at the jam on DVD for $15.00. Sometime between 8:00PM and 9:00PM (dark) the video will debut for free in the parking lot that the jam is at. The first trailer is up now, and another trailer will be up shortly.
(VIDEO: 10MB, 3 Minutes Long, Right Click "Save Target As" to save!)


Where you there? Did you miss it? Do you want to find out what went down? Who did what, who deserved what and why things may not have been as smooth as they could have been? Most of all - do you want to know how much fun you missed? Read it here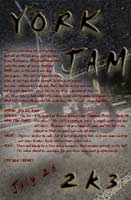 York Jam 2003 - July 26 - Details are here!